How would you spend a day in London? This week, with 30 or so virtual pilgrims around the world, we are travelling through Ireland and Britain on our first online Celtic Heritage Tour, part of our Summer School for European Studies in Amsterdam. The five-day series traces the spread and transforming influence of the Gospel through these isles, spanning two millennia. London is one of our last stopovers. What can you see in a day in this city that has helped shaped our world?
How has the Gospel shaped London? What can we still see today that tells the story of men, women and movements who shaped the way we think and live in our day?
To start with, like virtually every other European city older than 500 years, a large part of old London was made up of churches and monasteries. As early as 1300 London boasted over thirty churches and a dozen monasteries crammed within the city walls. Hence Erasmus could ask at the time of the Reformation, what is a city if not one big monastery?
How tempting it would become for Henry VIII simply to disestablish the sprawling monasteries and convents and grab their lands and possessions. Not being one to resist temptation, he did precisely that–after settling his own divorce, marrying his mistress and replacing the pope with himself as head of the Church of England. That's one way to start a new denomination.
Names of the monasteries have survived where buildings have not: Blackfriars (Dominicans), Greyfriars (Franciscans), St Bartholomew's (Benedictines), Austin Friars (Augustines), Crutched Friars (so-called because they carried a staff surmounted by a cross or crux), St Helen's Priory of Nuns, Abbey of St Clare, and St Mary Overey's Priory in Southwark, to name a few.
Westminster would probably be on everyone's list of things to see in London, the seat of the British Parliament. The name Westminster referred to the abbey church literally west of the formerly walled City of London, only a square mile in size. Up to the Reformation there was an Eastminster, near the Tower of London, in the East End of London. A minster was a monastic community dedicated to the offices of prayer in the abbey. Founded by Benedictine monks in 960AD, the abbey church always (with the exception of corona times!) has long lines of tourists waiting to see where royal coronations, weddings and state funerals have happened for a thousand years. It is also the final resting place for kings, queens, poets, musicians, scientists and leading politicians.
Guiding light
Westminster's surroundings offer evidence of humanitarian eras in London's history. William Wilberforce, the anti-slavery champion of human rights, had his London pied-à-terre directly opposite Parliament, where a statue of the Puritan soldier and politician Oliver Cromwell stands as a reminder of his role in establishing parliamentary democracy to give a voice to the people as a check on the power of the rulers. The Gospel was the guiding light in the work and lives of both these men.
Next to Parliament, in the Victoria Tower Gardens, we discover a neo-gothic memorial fountain for Sir Thomas Buxton, successor to Wilberforce in the fight against slavery. While Wilberforce saw the end of the slave trade in 1807, Buxton fought on until every slave in the British Empire was freed in 1833. Buxton's sister-in-law, Elizabeth Fry, was a Quaker, another passionate abolitionist, and was known as the 'angel of prisons' through her efforts for prison reform. Her visits to Amsterdam helped persuade the Dutch to outlaw their slave trade.
The Thames Embankment is a long garden in the bend of the Thames River opposite the London Eye, where more statues recall more English heroes. A monument for the Christian politician Samuel Plimsoll, for example, immortalises his long battle to save the lives of thousands of sailors and passengers by instituting the Plimsoll Mark on the waterline of all registered ships, holding shipowners accountable for the safety of crew and passangers. William Tyndale, martyred near Brussels, is honoured for his pioneer work of English Bible translation. The dock where his New Testaments were smuggled ashore from the continent is just a few bridges further down the Thames. A statue of Robert Raikes reminds passers-by of the Sunday School movement he founded. By 1831, one in four British children were attending Sunday Schools, precursors of the English state school system and initiators of sports clubs, some of which  became Premier League football clubs.
The underground brings us to Clapham Common a few miles south of the river, where Wilberforce and others of the so-called 'Clapham Sect' lived, met and prayed together to end the slave trade, encouraged by Henry Venn, the vicar of Holy Trinity Church, an active evangelical church to this day located on the common.
Strangely warm'd
Heading north again, a stop at Aldersgate Street on the old city walls brings us to where John Wesley felt his heart 'strangely warm'd'. A large flame-shaped bronze 'page' of his journal tells of his conversion on May 24, 1738, which started the revival which changed Britain. A further short walk brings us to Bunhill Fields Burial Ground, where non-conformists including John Bunyan, William Blake, Isaac Watts, Daniel Defoe and Susanna Wesley were laid to rest. Susanna's son John lies buried across the road on the site of the mother Methodist church. Around the corner one can still see George Whitefield's Tabernacle.
Another underground ride brings us to Whitechapel (another name referring to old London's many chapels, churches and monasteries) in East London where statues of William and Catherine Booth near the Blind Beggar Tavern witness to the birth of the Salvation Army, a much-derided movement which has since earned global respect and touched millions of lives.
One day can only begin to offer a glimpse of the spiritual wealth this city has offered to our world.
P.S. Don't miss this Sunday's Schuman Talk: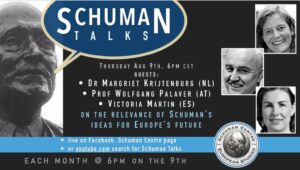 ---
Till next week,