Today, exactly 605 years ago, the Czech reformer Jan Hus was burned alive outside of Constance in Germany for standing for truth. Czechs enjoy a national holiday today in remembrance of their national hero whose bronze image has dominated the Old Town Square in the centre of Prague since 1915.
Despite the hardships of the First World War, the Czech people gave to enable this massive sculpture to be constructed for 500th anniversary of his martyrdom. The sculptor wrote: The Hussite uprising was the first great revolution in which humanity threw off the insufferable yoke of medieval religious despotism. Through his martyrdom, Hus purchased freedom of conscience for humanity.
Today, despite the corona restrictions, I am right now 'visiting' Prague with an international company of forty fellow travellers on a pilgrimage through Europe. Our travelling company represents a dozen nations spread around the world in different time zones – North and South America, the Pacific, Asia, Africa and Europe. Yet none of us leave our homes. In 90-minute zoom sessions online daily, we have so far this past week travelled together from the Netherlands across Germany, exploring Utrecht, Amsterdam, Freisland, Aachen, Cologne, Fulda, Wartburg Castle, Erfurt, Wittenberg, Halle, Leipzig and Herrnhut in search of faithful minorities who shaped Europe through their faith.
Jan Hus certainly belongs to that faithful cloud of witnesses. A week before his fiery death, Hus wrote from jail to the faculty and students of Prague University: 'Stand up for truth which prevails over all and retains its power until the end of time.'
Rule of Seven
Hus' Rule of Seven was recited by generations of his Hussite followers: Seek the truth, Hear the truth, Learn the truth, Love the truth, Speak the truth, Adhere to the truth, Defend the truth, for truth will free you. A century before Luther, he preached in the cavernous Bethlehem Chapel (in the local language, not Latin) about personal faith and the authority of the Bible, daring to declare that 'a pope living contrary to Christ, like any other perverted person, is called, by common consent, antichrist'. Influenced by Bible translator John Wycliffe of Oxford, whose Bohemian students carried his teachings back to Prague, Hus in turn inspired other key influencers including Jan Amos Comenius (educational pioneer), Martin Luther ('if only we had listened to the Bohemian doctor'), and Vaclav Havel, who made Hus' motto 'Truth prevails' the Czech presidential motto: Pravda Vítězí.
In the forested and rocky countryside an hour's drive south of Herrnhut in northern Czech Republic, holidaying Czechs will today be following marked trails, clambering over, under and around giant rocks balancing precariously, through a natural labyrinth landscape leading to a former secret place of worship for Hussites. Always a highpoint on our journeys to Prague, this venerated site known as Kalich–chalice–is a reminder of the movement of Hus' followers who were the first to celebrate communion with both bread and wine, forbidden by the Catholic Church of the day. A chalice carved into the rock, with the date 1634, is still clearly to be seen.
Religious refugees from the Herrnhut community, started in 1722, were survivors of the church started in 1457 by Hussites, and members from the Herrnhut Brüdergemeine will be attending a memorial ceremony on this spot today.
From the comforts of our armchairs, we will continue on our journey this week from Prague to Dachau, Augsburg to Hurlach, St Gallen to Zurich, Caux to Geneva, Basel to Strasbourg, and finally at Scy-Chazelles, Robert Schuman's home town in France.
You could still join us for the second part of this Heritage Tour; write: info@schumancentre.eu.
Schuman Talk
This coming Thursday, July 9, starting at 6pm, will be our second Schuman Talk, in which I interview guests on European issues, with Robert Schuman as reference point. Dr Evert Van de Poll, author of the shortly to be published Christian faith and the making of Europe will be my guest. A Dutchman living in France for many years now, Evert was deeply moved by the Notre Dame fire last year – to do something about it. I will ask him about this experience, and whether he feels Dutch, French or European. Together we'll explore the topic, 'nationalism, patriotism and populism'.
Join us on youtube.com (go to 'Schuman talks) or www.facebook.com/schumancentre.
Also, Evert and I will further team up to teach the Summer School of European Studies in Amsterdam, August 3-7. Evert will teach topics in line with the title of his new book, and I will give talks on 'how the Bible shaped our lives': including art, music, education, law, literature, language, politics, science, war & peace, human rights and many other spheres. Apply to me directly for registration. Costs: €250, plus €100 for accommodation. The week includes films, discussions, a canal tour and a closing graduation meal.
Register at info@schumancentre.eu
---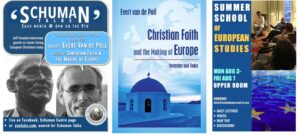 Till next week,