How do you change peoples' attitudes?
The outcry concerning racism over the past weeks in western countries with colonial pasts has certainly resonated with millions and triggered public debate. Sober journalism has produced various analyses of endemic racism long overdue for exposure, reflective dialogue, institutional reform and changed attitudes: in employment, housing, medical services, police relations, the media and public debate.
Large protest rallies, however, with emotional rants from speakers shaming their target audience, accusing 'them' of stealing this or that from blacks and demanding that those who don't join the public outcry are siding with racism (as reported from Amsterdam on Dutch television this weekend) leave me feeling manipulated rather than persuaded. Such polemics promote polarisation, not changed attitudes.
On the other hand, a current art exhibition in Amsterdam delivers quiet and powerful persuasion concerning many young lives that also matter: children, teenagers and young people of black, brown, yellow and white skin caught up in the €128 billion global slave trade. A quarter of the over 40 million slaves are children, more than ever before in history! Pause and think how many children that represents.
Expressions for Justice, presently on display in Look Up, the bookstore/exhibition gallery on the ground floor below the Upper Room here in Amsterdam (Prins Hendrikkade 50), leaves lasting visual impressions and disturbed consciences. A circle of thirty professional Christian artists, ArsProDeo, supports the work of the International Justice Mission (IJM), the world's largest anti-slavery organisation with this exhibition. They want their work to seep into our brains and hearts and change the way we see things.
Take the digital tryptic above by Lindy Damen, The Child Soul, where child slaves dream of playing with a father, jumping freely for joy or the thrills of skateboarding. My grandchildren enjoy these freedoms. That's a given here, at least in most circles. But not for millions elsewhere.
Or the confronting painting of ten-year-old Sumalee, (below), painted by José van 't Rood in just a thin négligée, offered to sex tourists (many Europeans) in Thailand for 700 baht (€20).
A poster headed 'Stop child slavery!' carries a news story by Willem Zijlstra about child slaves being forced to work in clothing factories in a Dutch town right under our noses, working for a pittance, under stern conditions and long hours to export products to Pakistan. The shocking reality is of course in reverse. We are challenged to ask that, if we would not accept this in Europe, why do we look the other way when it involves non-Europeans?
We're confronted more directly by the mixed-media item, 'Who made my clothes?', by Simone van Ommen. Clippings suggest hopelessness, children, pain, fear …. while bodies of children hang forgotten in the composition. Next time we go shopping for clothes this image may pop up in our brain.
A silicon mask with eyes and lips sewn closed is Ingrid Slaa's angry statement about slaves being silenced and hidden from sight, and declares her resolve to give a voice to those living in slavery.
What will we do?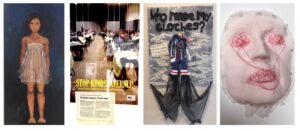 P.S. If you missed the first of the Schuman Talks last Tuesday, when I had a fascinating talk with author Tom Holland about how the story of Jesus shaped the West, you can catch it here.
Till next week,