Brother Andrew – known in his home country by his real name, Anne van de Bijl – was always an outlier, going against the stream.
When Russian tanks headed west towards Prague in 1968, he headed east with a car full of Bibles. When communist regimes collapsed and everyone was focused on Central and Eastern Europe and Russia, he targeted the muslim world. When the US Army was trying to find Osama bin Laden to take him out, Andrew was trying to find him first to tell him who really was boss of this world.
Andrew, who passed away last week aged 94, was always a great encourager of Youth With A Mission, even when very few had ever heard of the mission. Barely ten years after it began, Andrew taught in the first YWAM schools in Lausanne, Switzerland. When others saw youth missions as irresponsible engagement of unprepared novices, he saw that young people could grow quickly in vision, zeal and expertise when thrust out into the unknown to trust God for themselves.
He challenged YWAM leaders proposing an evangelistic outreach during the 1972 Munich Olympic Games to double their target number of participants. He saw the great opportunity to connect with athletes from communist countries at the games. He encouraged a young Dutch woman named Ronnie de Graaf to recruit 50 Dutch participants to join a thousand others from all over the world in Hurlach Castle, outside of Munich. There he joined Loren Cunningham, Joy Dawson and Corrie ten Boom in training the young evangelists for witnessing on the streets of Munich.
Smuggling
The following year back in Holland, Andrew helped Ronnie and another young YWAMer, Al Akimoff, with a deposit to buy a houseboat to provide accommodation for 200 young people coming to the city for a summer outreach. The Ark, as it was dubbed, would attract thousands of young people to its pier behind Central Station for over two decades.
Al and his wife Carolyn had been challenged by Andrew during their YWAM school in Lausanne to be prepared to go wherever God led, including into the communist world. Andrew often quoted the psalmist who wrote: 'by my God I can leap over a wall' (Ps. 18:29). There were no closed countries, he taught, although sometimes the way back might be closed.
Both with Ukrainian backgrounds, Al and Carolyn felt stirred to work with Andrew in his newly established ministry, Open Doors, smuggling bibles. On a recent visit to Amsterdam, they shared with us about building secret compartments into Open Doors vehicles to hide bibles, using magnets and special techniques they had learned building hot rod automobiles back in the States.
Andrew's faith and vision inspired this young couple eventually to start YWAM Slavic Ministries, not only to 'strengthen that which remains' (Rev. 3:2 – the Open Doors theme verse), but to reach out to the 'ninety-nine lost sheep' in the communist world.
Meanwhile, Ronnie had become Mrs Romkje Fountain. In the mid-80s, Romkje and I joined Andrew and other friends on a trip to the Middle East. The photo above shows us together in southern Lebanon where we met with Christian leaders and spoke on radio programmes. On that trip, Andrew was trying to make contact with Yasser Arafat, a man whom many would have loved to have escorted 'off the world stage'. But not Andrew. He wanted to talk with the PLO leader about the true Prince of peace. His chance came later in Tunis. His relationship with Arafat was to lead to the opening of the Bible book shop in Gaza City. Further visits by Andrew led to repeated requests from the controversial Arab leader for 'more of those children's Bibles'.
Lasagne
In more recent years, Andrew, his wife Corrie and daughter Steffie (who sometimes babysat our boys) would come for a pre-Christmas dinner. Andrew loved Romkje's lasagne. Just a year or two before she died in 2018, Corrie shared at one of these dinners about how the family would gather each time Andrew was about to go off on another dangerous trip. She and Steffie told about releasing him as a family into the hands of God, knowing there was no guarantee he would return.
Andrew has just made his last trip. This side of the resurrection, he will not return. He has already heard: "Well done, good and faithful servant."
His high view of those others saw as enemies came from recognising God's love for everyone, God's image in everyone and God's purposes for everyone – not wishing any to perish.
That radical perspective has gripped my two guests for the next Schuman Talk, Sunday October 9, 6.00pm CET (youtube.com/c/schumantalks). One is a Muslim who is fascinated by Jesus' command to love one's enemies. The other grew up in Ecuador in a mission community led by Rachel Saint, sister of Nate Saint, martyred by Huaoroni indians. Zach and Mohammed each have fascinating stories to tell!
---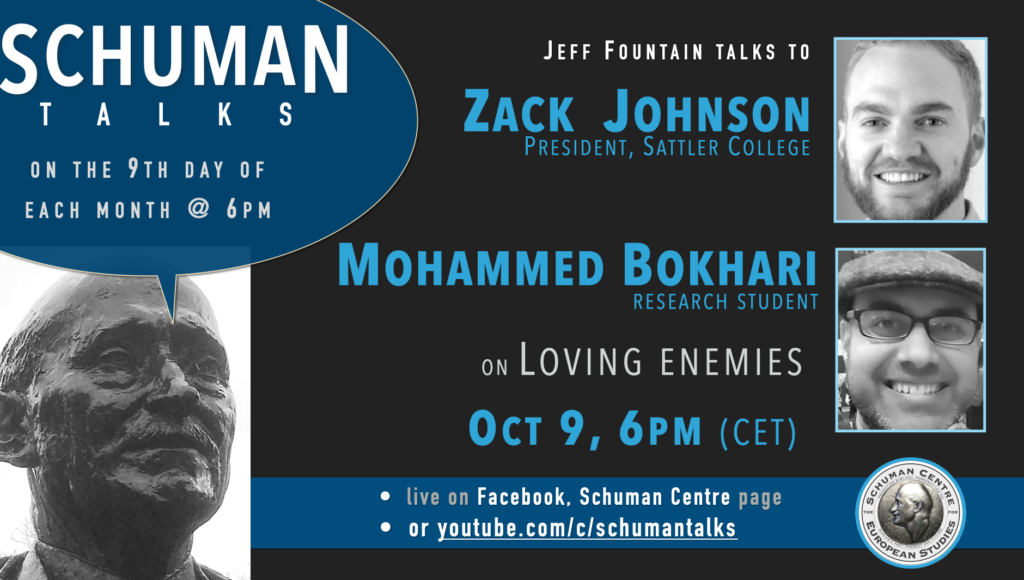 Till next week,