Five Europe-based ministries were honoured at HOPE•II for bringing the hope of the gospel into needy corners of the continent. Towards the close of the last plenary session in the Budapest Congress Centre, Beat Rink, chairman of the evening, invited five presenters to the stage to announce the Hope Award recipients.

Beat explained that the awards were presented annually by the HOPE for Europe movement, to give appropriate honour to persons, groups or projects in Europe embodying the message of biblical hope, to increase awareness of such initiatives especially across national borders, and in turn to inspire further 'actions of hope'.
The HOPE Award, crafted of a silver-pewter and marble, is an honorary recognition of services rendered and has no monetary reward attached.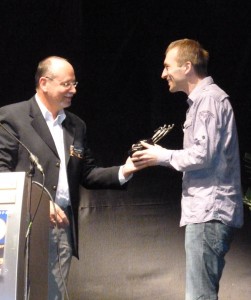 When Dr Chris Steyn, convenor of the health network, came to the podium and began describing a ministry bringing hope to drug addicts and urban street people, Sergey Grushko of Teen Challenge in Kyiv thought to himself that he should really make contact with that ministry. It sounded similar to his own work and he would like to learn from it.
Then, to his great surprise, he heard Chris call out his name. As he climbed the stairs to the podium, his face was one broad beam of wonderment that the work he and his wife Mariana had begun a decade ago was even known outside his home city. Sergey had himself experienced the discovery of hope when he was rescued from drug addiction, and has devoted his life to sharing that hope with others.
Colourful
As convenor of the women in leadership network, my wife Romkje then invited plenary speaker Patricia Green to come to the podium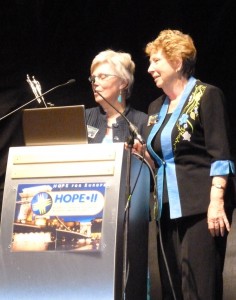 to receive an award for her ministry to victims of the wide-spread human trafficking across Europe. Now based in Berlin, Patricia has worked in this field since 1988 when she founded Rahab Ministries in Thailand on behalf of sexually exploited women and children, one of several such ministries she has helped start in different countries. Her passion is to make people aware of these issues and to offer victims a new life.
Patricia now directs the Alabaster Jar ministry (www.alabasterjar.de) in Berlin and consults, speaks and lectures at university level on issues of sexual exploitation, trafficking, and prostitution.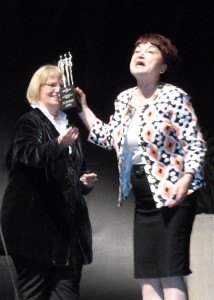 One of the more colourful speakers at the congress was then called to the podium by Elke Werner, Lausanne Senior Associate for Women in Evangelism. Elke then presented an award to Shirinai Dossova, born into a Muslim family in Uzbekistan but now living in Moscow. A passionate evangelist, Shiriani had told the congress earlier how she had been kicked out of her family home after becoming a Christian. Today, however, eight out of her nine siblings are believers and many are planting churches. A chapter in the congress reader, The Bridge of Hope, tells the story of her courage during the attempted coup against Gobachev in Moscow in August 1991 when she confronted the soldiers that had surrounded the Russian parliament.
Creative
Rev Robert Calvert, convenor of the urban missions network, announced that an award would be presented to Santa Clara Church in Stockholm.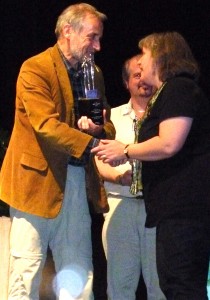 Swedish participant, Lotta Stevens, accepted the award in the absence of a representative of the ministry. Arrangements have since been made for Jennifer Tunehag and myself to present the award in Stockholm in two weeks, when I will write more about this pioneering ministry.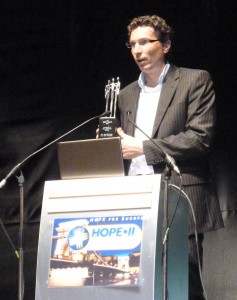 Last, but certainly not least, Mark de Boer, Agape Europe director for internet evangelism, received an award from Steve Hollinghurst on behalf of Top Crétien, a Paris-based internet ministry (www.topchretien.jesus.net) developing creative websites to reach a generation surfing the information highway for answers to life's perplexing questions.
Inspired by such examples, we headed into the next two days of network consultations with fresh hope for Europe.
Till next week,
Jeff Fountain
Till next week,