Travel is opening up again across Europe at last as corona restrictions are easing. So come with us this summer on an exploratory trip through time and space.
No, we are not organising a trip across the continent in mini-vans …yet. But we do invite you to travel to Amsterdam for the Summer School of European Studies, on July 12-16,a five-day live-in course with lectures and discussions; plus a canal boat tour to discover the soul of this fascinating city, a city walking tour in the footsteps of Abraham Kuyper, and a virtual Continental Heritage Tour across Europe. So, despite COVID, travel aplenty!
---
And here's a very special offer: we have ten scholarships available covering 90% of the fees for live-in students under 35 years old. Instead of tuition fees of €200 and accommodation and food costs of €100, you can attend the full course for €30! Accommodation is in De Poort, YWAM's main training centre overlooking the harbour, where evening lectures are held. Morning lectures are in the Upper Room lounge, in YWAM's PH50 (Prins Hendrikkade 50) building opposite the central station.
---
Insights and understanding about Europe shared by respected theology professor Evert Van de Poll, from the Evangelical Theological Faculty in Leuven, Belgium, have been greatly appreciated by the many students who have attended the Summer School over the past decade. Each student will receive a copy of his book, Christian Faith and the making of Europe, from which he will teach in the morning sessions.
The reactions this week to Hungary's anti-homo laws raise deep questions about what exactly European values are. And who decides what they are. Evert is one of few evangelical teachers addressing such issues facing us in our secularised-yet-still-religious society. Does 'Europe', the EU, stand for unrestricted diversity of lifestyles or are there boundaries? How do we safeguard 'unity' against radically-individualised 'diversity'? Is there really room for diversity of opinion in a 'rainbow' society? Or does 'tolerance' mean we have to accept everything and anything? Are human rights granted by our governments, by the EU Commission, or by God?
Engaging the world
These are questions vexing thoughtful Christians throughout Europe which too often remain unanswered. They are questions Evert will raise as we look at:
how Europe has been shaped both by the Bible and the rejection of the Bible;
how post-Christian and post-secular Europe is actually today; and
how we should view the future of Europe.
Amsterdam was for three decades the city of Kuyper, where he started and edited a newspaper, established and taught at a university, began a new denomination and built its first church. Kuyper engaged with the world of his day and left a lasting legacy in Dutch society. Through a walking tour of buildings in the city centre we can learn from Kuyper how to engage with our world. Drawing lessons from Kuyper's life as explained by Michael Wagemann in his reader, Engaging the World, we will reflect on how to engage with the worlds of education, journalism, politics and society.
In four evening sessions, we will embark on a Continental Heritage Tour, starting in the Netherlands, crossing Germany into the Czech Republic, back across Germany to Switzerland, and France. Discover the impact small minorities have had through their faith on shaping Europe's story. Learn from past examples about keeping the faith in the midst of persecution and oppression, increasingly relevant in our sometimes harshly secular society. Each participant receives a photoguidebook explaining the highpoints of each location we visit.
Participate online
There's more. You can also participate in this school online from home. You can sign up to follow Evert's eight morning sessions, and/or the Continental Heritage Tour (four evenings), each series for €85, or both for €150. (That's still a bargain, even though the scholarships are only for live-in students! The live Heritage Tours cost over €1500!)
Frankly, I don't know of any other course that gives you so much perspective on Europe, past, present and future, in one week. I wish I had been able to attend this course thirty years ago when I became European director of YWAM and begin looking around for 'mothers and fathers' with God's heart for Europe. I could find very few. That's why I'm passionate about offering this chance to students, missionaries, church leaders, theology candidates, organisational leaders and anyone concerned about Europe's future.
We start Monday afternoon, July 12. and finish Friday afternoon, July 16.
Will you join us? Then write to me directly at jeff@schumancentre.eu.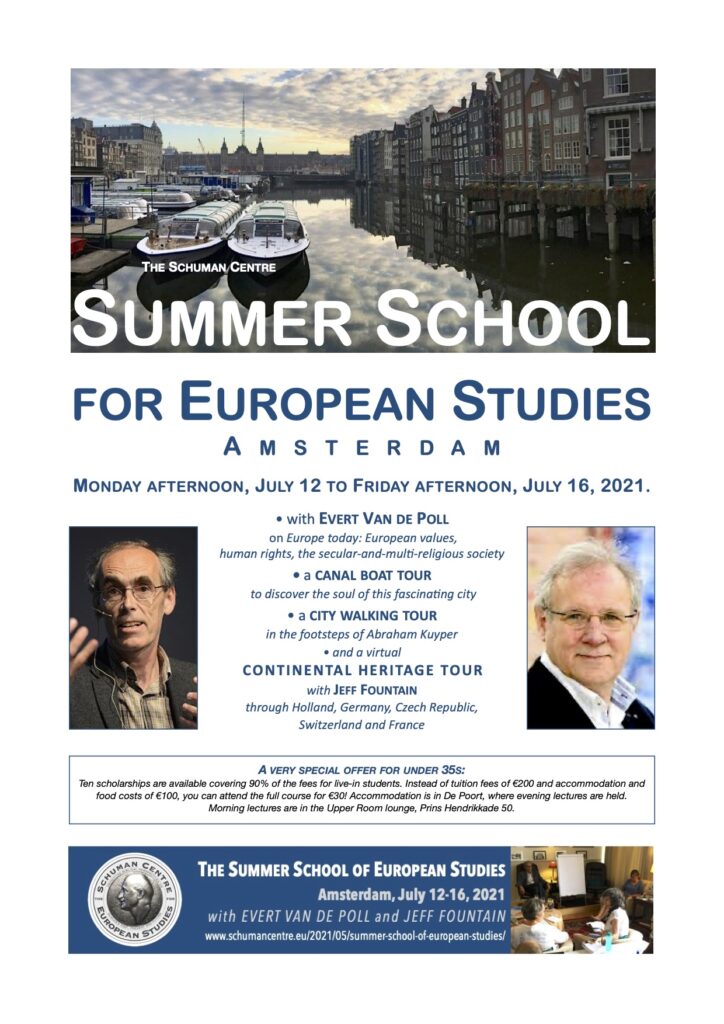 Till next week,