The British philosopher, John Stuart Mills, once said: Let not anyone pacify his conscience by the delusion that he can do no harm if he takes no part, and forms no opinion. Bad men need nothing more to compass their ends, than that good men should look on and do nothing.
Are Evangelicals guilty of 'taking no part, forming no opinion, looking on and doing nothing' concerning the unprecedented project of European integration? The stark conclusion drawn from interviews with twenty evangelical leaders, academics and specialists, onfirmed by online research is – well – yes.
Unlike Catholics and mainstream Protestants, Evangelicals have not been constructively engaged in encouraging European unity. Evangelical indifference and ignorance revealed in my study, as I have written over the past two weeks, demand fresh Biblical reflection and response at both leadership and popular levels.
Sure, there has been much attention in recent years on in a range of issues including trafficking, refugees, immigration, free speech, right to life and religious liberty. Yet despite our commitment to the authority of the Bible, and our emphasis on Bible knowledge, we Evangelicals remain widely ignorant of:
the breadth and depth of God's mission in the Bible for all of his created order;
the central role of the Bible in shaping European society, culture and values;
the Christian faith motivating the founding fathers of what has become the European Union;
the influence of biblical thinking in EU policy and terminology, reflected in Catholic social teaching concerning human dignity and rights; and,
the responsibility of God's people to engage in the battle for Europe's soul and future.
Comfortable
These findings call for critical evaluation of practices, programmes and perspectives by leaders of churches, denominations, seminaries, colleges, institutions, organisations, publishing houses and media outlets.
Is the missio Dei for God's created order sufficiently taught in evangelical seminaries and bible schools? As Chris Wright unfolds in his overview of the grand narrative of the Bible, The mission of God, a holistic mission is the proper shape of mission for God's people to reclaim the world, including the created order
Do evangelical curricula adequately reflect the hope of God's kingdom, his shalom, setting things right on earth, in Europe, for which we are implicitly instructed to pray in the Lord's Prayer? Tom Wright has helped many to understand that 'a mission-shaped church must have its mission shaped by its hope; that the genuine Christian hope, rooted in Jesus' resurrection, is the hope for God's renewal of all things, for his overcoming of corruption, decay and death, and for his filling of the whole cosmos with his love and grace, his power and glory'
Do we as Evangelicals reflect a humble and open attitude towards learning from and partnering with non-evangelical and even non-Christian parties in our commmon search for truth in all spheres of intellectual life?
Will resources and personnel be released for research, publication and production of literature and programmes, academic and popular, to educate a biblically-illiterate European public about the source and inspiration of their own culture, alongside awakening our own evangelical congregations to this reality? Bible colleges and theological seminaries across Europe offer literally hundreds of courses on biblical studies, but few if any teach about how the Bible has shaped European culture and history. It's is a story largely unknown and untaught.
Will there be the will-power and flexibility to reshape the agendas, curricula and calendars of evangelical training institutions to equip future leaders to engage with the realities of tomorrow's world?
Will evangelical leaders recognise that a reputation for being 'bible-based' is no guarantee of biblical faithfulness but may lull believers into self-satisfied, comfortable traditions falling far short of God's calling for his people to 'turn the world right-side up'? John Stott once said, 'the hallmark of an authentic evangelicalism is not the uncritical repetition of old traditions but the willingness to submit every tradition, however ancient, to fresh Biblical scrutiny and, if necessary, reform'.
Bible 101
My recommendations include a consultation of interested parties (academics, church and organisational leaders and educationalists) in the new year, towards developing:
modules on public theology and European studies to be taught in person or on line in seminaries and colleges across Europe, facilitated by the Schuman Centre and others;
a European, evangelical, missional, public theology, and a compendium on European public theology with contributions from a range of European evangelical authors (cf. African public theology);  
high school and undergraduate courses on Bible and culture, Bible 101, presented within a secular framework with the argument that ignorance of the Bible, the most influential book in western civilisation, undermines literacy and cultural awareness.
We hope to explore further what contributions Evangelicals can make to the future of Europe when we resume the annual State of Europe Forum around Europe Day, May 9, next year in Paris, under the French presidency of the European Council.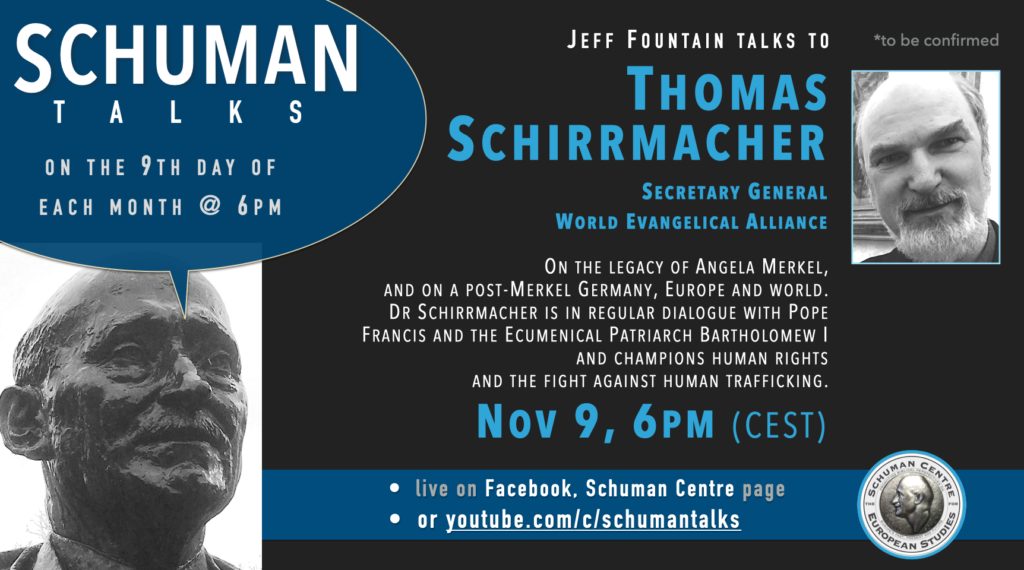 Till next week,