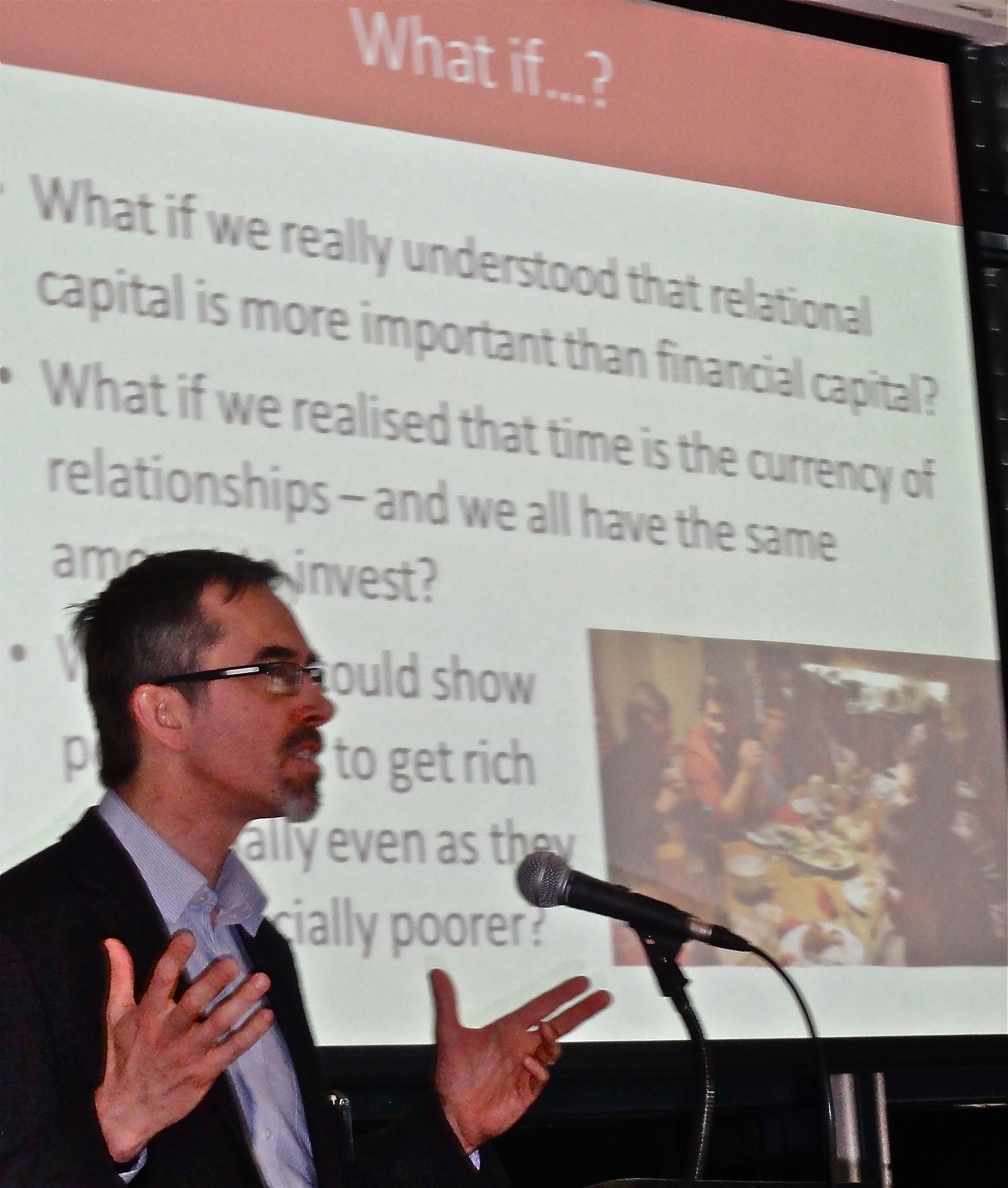 When Judah was taken into exile to Babylon, God's instructions to the Jews through Jeremiah was to seek the city's shalom, or well-being and harmony. What then might God's word to us be today as 'exiles' in what many see as a post-Christian, secularised Europe? Surely also to seek Europe's shalom.
Okay, but what does that look like? What does it mean to 'seek shalom'? And how can we measure it?
If Robert Kennedy was right, one way we can't measure it is in mere economic terms. Shortly before his assassination forty-five years ago, he declared in a speech that '[g]ross national product…counts airpollution and cigarette advertising, … special locks for our doors and the jails for those who break them… Yet (it) does not allow for the health of our children, the quality of their education, nor the joy of their play. It does not include the beauty of our poetry, nor the strength of our marriages; the intelligence of our public debate, or the integrity of our public officials… It measures everything, in short, except that which makes life worth living.'
So how do we measure that which makes life worth living? This was the task we asked Jonathan Tame and the Jubilee Centre in Cambridge to research and present at the State of Europe Forum in Dublin ten days ago (see photo).
The result was 'The Relational State of Europe Snapshot', an effort to capture an overview of the quality of relationships in family, community and workplace across Europe. You can download the 18-page summary report with three pages of colour charts free from www.jubilee-centre.org.
Indicators
In the debate about economic failure and recovery over the past five years of global financial crisis, scant attention has been given to the significant contribution that quality of relationships makes to the well-being of individuals and society in general. Countries have been ranked by the media and politicians by how they have dealt with the financial implications of the crisis. But this ignores other indicators of well-being.
The 'Snapshot' is based on the insight that the quality of relationships in individual and social life greatly determine the shalom of a nation, and thus of Europe. If seeking this shalom is indeed God's word to us today, then it is something we should be wanting to evaluate.
When we start counting the economic costs of relational breakdown, we can see this more starkly. On a family level, the cost of breakdown in the UK alone, according to the Relationships Foundation has reached £46 billion in 2013! Frankly this is something the UK and Europe cannot afford. (see Cost of Family Failure Index, www.relationshipsfoundation.org)
But isn't is a job for politicians, analysts and statisticians? Isn't this a bit too worldly and technical for church leaders and those really concerned with 'kingdom business'?
Admittedly, it may be outside our comfort zone. But when we pray 'May Your Kingdom come', what is it we are praying for? Surely it is for God's will to be done on earth, in Europe, as it is in heaven. And God's will is for individuals, families, communities and nations to be rightly related. In one word: shalom.
Language
A focus on relationships can shape our understanding of mission by helping us visualise God's intentions for society, and to develop an agenda for transformation of society as well as of individuals.
It can give us a language to talk with policy makers, politicians and cultural leaders who all too often can get the impression that Christians are people who have answers for questions they are not asking, but don't have answers for the questions they are asking.
It can also prepare the way for talking about what makes life worth living, the deeper meaning of life, with those not normally open to the gospel, as we talk about the quality of relationships with family and friends, neighbours and strangers, and ultimately–and most crucially–with God.
So then, how are we doing in Europe? That's difficult enough to say in 18 pages, let alone in these few lines. The presentation in Dublin was a first step to highlight the fact that economic, political and social problems are ultimately relational issues, with causes and consequences in the realm of relationships.
In the three areas researched–family, community and work place–figures vary greatly across Europe. The report's charts yield positive surprises (83% of children live with both mother and father in same household) as well as warning signals (long-term youth unemployment increases the risk of health problems, criminal activity, poverty, and family and community breakdown).
Responding to these challenges may not seem 'spiritual'. But it is about seeking shalom.
Till next week,
Jeff Fountain
Till next week,