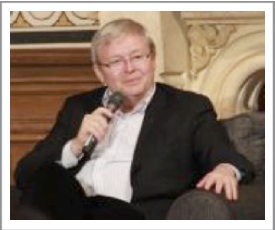 Last week, at the Caux Conference Centre high above Montreux overlooking Lake Geneva in Switzerland, a former prime minister of Australia and two Aboriginal spokespersons shared about the healing power of public apology.
Kevin Rudd, former Prime Minister of Australia, presented a public apology at the opening of parliament in 2008 to the 'stolen generations' of Aboriginal children forcibly removed from their families. At the Fifth Caux Forum for Human Security last week, Rudd was accompanied by Jackie Huggins, an Aboriginal spokesperson and historian, and Daryle Rigney, the Dean of Indigenous Strategy and Engagement at Flinders University. Each spoke about the impact of the apology personally and on their nation.
We regularly visit Caux each year on the Heritage Tour. Last Friday after driving up the winding mountain road to the imposing conference centre with its equally impressive view, we met staff member Andrew Stallybrass who eagerly told us about the session with Rudd two days before–a highlight of his life, he enthused.
The large international audience assembled in the cavernous meeting hall of the centre, the scene of many historic encounters, gave a standing ovation after watching a short film clip of Rudd's apology in the Australian parliament, Andrew said.
Rudd, prime minister from 2007-10 and foreign minister from 2010-12, said the applause should not be for him 'but for the indigenous people of Australia.'
Four generations of Aboriginal leaders had fought on these issues, he said, whereas 'we whites are perhaps slow learners'.
Inspiration
'There comes a time in the life of a people or a culture when telling the truth is not a bad strategy,' Rudd went on. 'Everything is possible if we have the heart to do it,' he continued.
'We should be inspired by this place,' he said, in reference to the role Caux has played over the past 65 years in catalysing healing processes of apology, forgiveness and reconciliation. Immediately after the Second World War, Caux played a significant role in bringing reconciliation between German, French and other European leaders in politics and industry, creating a climate of cooperation which led directly to the birth of the European project. Aboriginal leaders had also come to Caux over the years to find inspiration and encouragement in their struggle.
The former Prime Minister explained that for an apology to be genuine, it had to be authentic. He had written his speech alone and by hand, and only after a three-hour meeting with an senior woman of the Stolen Generation who had told him her story.
'It's difficult for a politician to shut up for three hours and just listen,' he told his audience. 'To be effective, the apology has to be received. There is a risk in all this.'
Sacrament
Apology was 'a secular sacrament that could have a deep spiritual and emotional impact'. An apology had to be factually based, he continued, while an apology without actions was meaningless.
Civil society–non-governmental groups–had played a critical role in preparing the ground during the decade leading to the apology, he noted, recognising that politicians came and went but the reconciliation process would endure longer than an electoral term.
A genuine apology also required an action plan sustained into the long-term future, concluded Rudd, explaining that he now had to report on progress to parliament every year.
Huggins added that the act of recognition, justice and healing 'was very important for our people, but also for all Australians'. It had been hard to watch the video of the apology again, she admitted. 'The emotions are still raw around the magnificence of that gesture,' she said, before embracing Rudd with the words, 'Thank you so much for giving us our dignity back.'
Professor Rigney told how he had not been interested in the process around the public apology, and had only watched it on TV while looking after a sick daughter. To his own surprise, he had wept while in front of the TV.
'It touched me. I can't explain why or how,' he said, 'but "sorry" actually does mean something.' There has been 'a commitment not to go the way of re-offending and not to repeat those mistakes again'.
Till next week,
Jeff Fountain
Till next week,