Half a century of reminiscences were stirred by a recent visit to our Amsterdam apartment from Captain Brian Sloan and his wife Anne.
Brian runs the YWAM Maritime Academy, training crew for the twenty eight vessels of the YWAM Ships fleet operating all around the world. For me, that's a story stretching back to 1972 when Youth With A Mission was a small movement only a dozen years old.
Actually, the story begins even earlier, in 1964, during one of the first summer outreaches to the Bahamas when a hurricane swept through the islands leaving a trail of damage. The seeds were then planted of a vision to use sea-going vessels to bring relief aid and demonstrate the love of God.
My first awareness of that vision came eight years later, when two American YWAMers turned up in our living room in Auckland, New Zealand, to talk with my dad about plans to buy a national icon, the m/v Maori. This inter-island ferry, with a familiar dark green hull, was a boat many Kiwis had sailed on at some stage in their lives. My eyes widened as I saw the brochures spread out on the floor already printed with an artist's impression of the ship, repainted in white, anchored in a Pacific Island harbour framed by palm trees. The two visitors wanted my dad, as the first chairman of YWAM New Zealand, to accompany them to Wellington to negotiate the purchase.
Scoop
As a journalist working on the NZ Herald at the time, I realised what a scoop of a story was there in front of me – but was told not to breathe a word. Unfortunately, that sale did not go through, as Loren Cunningham explains in his book Is that really you, God? Mistakes were made and YWAM had to face criticism from both the secular and the Christian public. In YWAM we called this episode 'the death of a vision'.
Only six years later, I found myself now part of YWAM based in the Netherlands, and on a train heading to Venice with five other YWAM leaders, three of whom would precede me as YWAM Europe directors: Don Stephens, Floyd McClung and Lynn Green.
We were also on a confidential mission: to check out an Italian passenger liner named m/v Victoria, with a view to purchasing her to carry YWAMers from Europe to Argentina for an outreach during the World Cup football. It was for sale for the scrap metal price: one million US dollars. 
Four hundred young evangelists converged on a camping ground in Venice late in March 1978, eager to board the ship and cross the Atlantic for the World Cup outreach. We raised the money with mortgages on four YWAM properties in Europe (Lausanne, Hurlach, Holmstead Manor and Heidebeek). I was part of a small team which worked through the night preparing a written proposal for submission to the bank the next morning in Lausanne. The longer term plan was for the ship to circumnavigate Africa annually, calling in at ports to offer relief aid and engage in evangelism. 
Don Stephens took on the leadership of the project, and sent me back to Holland to find crew ready to sail within a month for two months without pay! This is embarrassing to write. We were so green! The vessel would take four years – including being towed to Athens for renovation – before being ready to sail! Sometimes God has to use those who don't know it can't be done to get it done!
Trial and error
That is how YWAM Mercy Ships finally began in 1982 with the vessel renamed m/v Anastasis – meaning 'resurrection' – after a lot of trial and error. The 'trial' was literal. While the ship was in Greece, Don and two others were charged with proselytism after a young Greek became a believer. They were sentenced for 3.5 years in prison, later suspended under international pressure.
The Anastasis, converted into a hospital ship, was later joined by two smaller ships, m/v Island Mercy and m/v Caribbean Mercy.
Shortly after the new millennium began, Mercy Ships became its own independent organization with Don as CEO. Today it operates two ships, m/v Africa Mercy (replacing the Anastasis in 2007) and m/v Global Mercy (2021).
Yet ships have continued to be part of YWAM's story too, with smaller vessels able to negotiate coastlands, rivers and lakes, as well as deep-sea yachts and mobile dental clinics. Today the fleet has grown to twenty eight vessels operating on all oceans and continents in close relationship with land-based YWAM centres. (See, for example, ywamships.org; ywamships.no).
It's a story I had lost track of. Brian and Anne's visit was an eye-opener for me to the multiple YWAM maritime ministries now operating globally. No wonder Brian saw the need to start the YWAM Maritime Academy to train crew for these ships.
To think what has developed from such bumbling beginnings!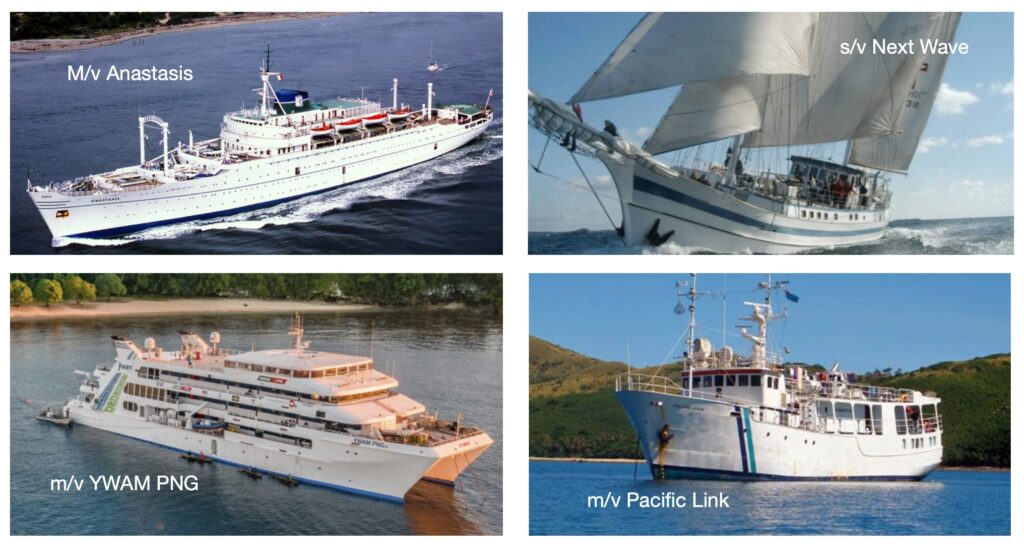 Till next week,