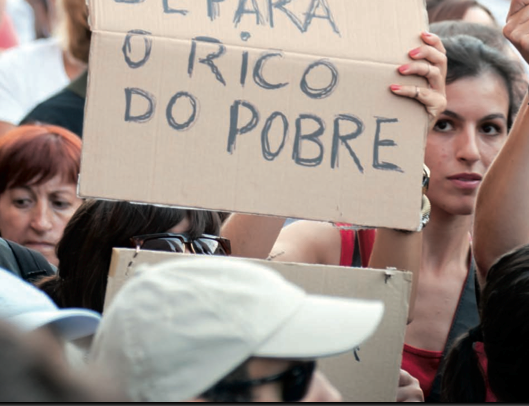 The days are getting longer here in the northern hemisphere. The birds are chirping again, mornings and evenings. Lent has arrived. For many, that means a 40-day season of voluntary sacrifice and self-discipline.
But for millions, especially in southern Europe, there's nothing voluntary about their season of austere living which began several carnivals ago and will likely last for quite a few easters to come. Countries most affected include Greece, Italy, Portugal and Spain.
Not to forget Ireland, where I happened to be last week when the Dublin office of Caritas released a significant report on the impact of the European crisis and the effectiveness or otherwise of governmental austerity measures.
Caritas, the Catholic charity engaged with poverty, social exclusion, migration and asylum in Europe, is actively engaged on the ground in each of these countries helping those worst affected by the crisis.
Poverty
The bottom line of the report is that 'austerity measures are impacting very negatively on the lives of people in poverty, and driving many more into poverty for the first time'.
For anyone concerned about Europe's future, the report gives a most helpful overview of causes of the crisis, official responses to it, current effects and future outlooks.
Few agencies would be able to produce such a report. As the diaconate branch of a global church with a strong history of social teaching, Caritas has produced a document worth studying by the whole Body of Christ.
Last month, I attended an evangelical mission consultation at which a useful overview of the crises facing us in Europe was presented, inspiring a couple of weekly words. The disturbing aspect for me was that two denominational leaders, asked to tell about how their churches were responding to the crisis, spoke at length about the work of their congregations without any reference at all to the current situation.
Such social and political engagement is seen by some evangelicals as a distraction from the 'real work' of the gospel, not core missions business–a view expressed at this consultation. But who was it who said that we would be judged (sheep and goats separated) on the basis of whether or not we met the needs of the hungry, thirsty, naked, homeless, sick and imprisoned?
The reason I was in Dublin was to prepare for the State of Europe Forum there on May 9 & 10. The forum's aim is to evaluate the current state of Europe in the light of Robert Schuman's vision for a 'community of peoples deeply rooted in Christian values'. This Caritas report provides helpful background reading for our discussion there.
It presents a picture of a Europe in which 'social risks are increasing, social systems are being tested and individuals and families are under stress'. Long-term unemployment particularly among the young is becoming structural. Poverty and less access to essential services is affecting children especially. Even the International Monetary Fund realises that austerity measures have had a more negative impact on output than expected, and are recommending European policy-makers to ease financial conditions in the 'periphery' economies.
Vulnerable
Each of the five nations mentioned above are examined in relation to the impact on vulnerable groups. While the background, impact and evolution of the crisis is different in each country, similarities can be seen in how the vulnerable are affected. Gaps in the welfare systems of several countries leave certain groups in extreme difficulty. Strong traditions of family support are being severely tested.
Caritas concludes that the current austerity approach is simply not working in economic terms. The social cohesion of Europe and the very political legitimacy of the European Union is at risk.
A list of concrete recommendations for just and sustainable solutions concludes the report, aimed at EU institutions, national governments, NGO's and churches.
These recommendations have wider implications beyond the five countries considered. Just as social and economic development are interlinked, so pursuing austerity measures alone will not solve the crisis in Europe, argues Caritas. We do well to consider these recommendations.
Till next week,
Jeff Fountain
Till next week,