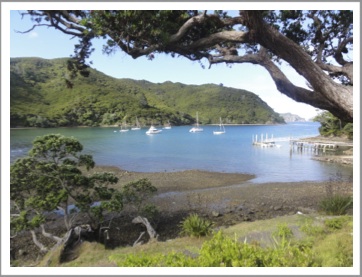 After flying for a day and a half from Europe, you may think you have reached the ends of the earth when you land in Auckland: 'New Zealand, the world's last bus stop'. But no, the journey hasn't finished yet.
For lying 60 kilometres off the coast from Auckland you can see on a clear day the long low grey outline of Great Barrier Island, population about 860. After another shorter journey–thirty minutes by small plane, or a couple of hours by fast twin-hulled ferry–you have truly arrived at the end of the trail. For if you were able to go any further, you'd start heading back towards Europe.
'Welcome to Orama', the sign on the wharf reads, telling visitors they have arrived at the home of a Christian community, a place of spiritual renewal and transformation. My wife and I were among 200 guests who visited Orama this past weekend to mark half a century since the community's founding, something I was privileged to witness as a teenager. Orama, in fact, played a very significant role in my own spiritual journey.
Small beginnings
Back in 1964, cooking for the first summer camp was done on a primitive wood stove in a rusty corrugated iron shed. Meetings were held in an old marquee tent. We sat on backless wooden benches on the bare grass floor. Naked lightbulbs strung between the tent-poles illuminated proceedings until the diesel generator habitually broke down, forcing events to continue in candlelight.
Under that same ancient canvas roof, I found myself one evening touched by the Spirit of God and rolling on that bare grass floor in laughter, behaviour I had never seen nor experienced before.
We had never heard of the word 'charismatic', let alone of 'the Toronto experience' back in the mid-'60's. We knew of no movements as such. What we did not realise then was that in this remote, primitive situation, we were experiencing the beginnings of a global renewal movement that would sweep every continent and every denomination.
Orama became for me, my family and many others a place of deep encounter with God. It was a place where we expected the Holy Spirit to be present–what the Irish Celtic monks would have called a 'thin place'. In fact, Orama is just the sort of remote location the Celts chose to set up their communities in northern Europe many centuries ago.
The name Orama means 'vision'–interestingly in both Greek and Maori. A Cook Islands Maori translation of Joel 2:28 reads: E moemoeaia mai to kotou au tangata pakari: e kite oki to kotou au tangata ou ra i te orama. [Your old men shall dream dreams and your young men shall see visions.]
The first time my young Baptist ears heard the word 'vision' being used in the sense of a God-given dream for the future, was when founders Nev and Dot Winger talked of how God had given them a 'vision' to buy this property to develop a place of personal renewal, rehabilitation and training. Subsequent generations of Wingers continue to help staff Orama with its conferences and discipleship programmes. (See www.orama.org.nz)
Great expectations
This past weekend we reflected on the primitive beginnings of Orama in 1964; and on New Zealand society and global realities half a century ago: when Keith Holyoake was prime minister and Peter Snell won double gold at Tokyo; when the US started bombing Vietnam; Mandela was imprisoned for life; the Beatles and the Rolling Stones hit the headlines, and Cassius Clay floored Sonny Liston. We recalled the visit to Orama in 1967 of a young unknown American named Loren Cunningham who shared his vision of waves of youth going into all the world as missionaries. Several listening to him in that same old marquee responded to his challenge, and the global staff of YWAM was doubled overnight to about 20 (now 20,000)!
Who then could have foreseen the world-wide worship movement pioneered in no small part by New Zealanders David and Dale Garratt and Scripture in Song? Who then would have imagined the spectacular growth of the non-western church in countries like South Korea, Brazil, Nigeria, and especially the then-closed China, where today more people go to church on Sunday than in all of Europe?!
As I sat on a boat in the quiet remote bay and opened my laptop, I marvelled at the wifi signal it immediately picked up, connecting me with the internet and the rest of the globe. For 'laptop', 'wifi' and 'internet' were all unimaginable concepts 50 years ago. What unimaginable tools for world missions would be developed over the next half century, I wondered.
Surely as we look towards the future, and 'to him who is able to do immeasurably more than all we ask or imagine' (Eph 3:20), we should dare to dream big dreams and see audacious visions!
Till next week,
Jeff Fountain
Till next week,