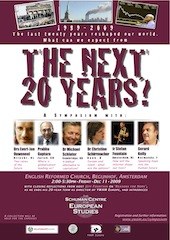 A month from now, the world's press will be reminding us of those exciting and heady days twenty years ago, when the Berlin Wall was torn down by sledgehammers and bare hands, and communist regimes across Eastern Europe came tumbling after.
These same momentous twenty years have defined my term of office as director of YWAM Europe, which will end at the close of this year.
When Lynn Green, now YWAM's International Chairman, asked me to consider taking on the European leadership in 1988, I responded in jest, saying, 'Yes, but on one condition.'
The condition was that he solve all the major problems in Europe first.
So as summer of 1989 gave way to autumn, I began to notice major changes happening: the border between Austria and Hungary was opened on September 11; two months later the Berlin Wall itself was the scene of cheering, laughing, crying reunited Berliners from both sides. By the end of the year, even the Romanian dictator Ceausescu had been ousted, executed and buried.
I was very impressed, so wrote to Lynn to thank him for keeping his side of the bargain. I now had to keep mine.
Gold-Rush
What a privilege to have been engaged in missions leadership in these two world-shaking decades! With the doors wide open to Eastern Europe, Russia and Central Asia, YWAM joined many other missions in responding to the great curiosity and spiritual hunger of the post-Communists. After nearly twenty years of undercover work by pioneers like Al and Carolyn Akimoff, now we could operate openly on the streets, and set up training centres from Krakow to Kamchutka.
Very quickly, the scene began to resemble the wild gold-rush days, becoming crowded, confused and competitive. Al cautioned against the short-term mentality, urging us to think long-term, and to lay solid foundations.
We began to reach out to other organisations and seek ways to share, cooperate and partner. A core group of leaders from various organisations began to meet regularly and we identified the need to build networks of like ministries. Eventually Hope for Europe was born as an umbrella to promote a climate of cooperation for renewal and reformation in Europe.
Unfinished
That of course is an unfinished job. I am not stopping because the task is done. Neither am I tired, bored or discouraged. But twenty years is a long time for anyone to stay in the same job. It's time to make room for younger leaders, fresh blood and new thinking.
Romkje and I will remain YWAMers, overseeing Centrum 's Heerenhof, the multi-ministry centre in Heerde, close to the Heidebeek training centre.
And we both hope to continue being active in Hope for Europe for the foreseeable future, networking ministries in a spirit of cooperation across the continent.
In fact, we are already preparing for a second pan-European congress, HOPE•II, to be held in Budapest in May 2011.
In addition, we are sensing a new challenge to focus on the message of hope; to network thinkers and doers across Europe, encouraging 'thinkers to do more and doers to think more'. We plan to start a Centre for European Studies, with courses, summer schools, think tanks and study units, aiming to promote biblical perspectives on Europe's past, present and future.
Symposium
To bring these twenty years to closure, and to explain something of our aims for the next twenty years, we invite you to join us in Amsterdam on Friday afternoon, December 11, for a symposium, open for all, to explore what these twenty years might bring. A panel of specialists from England, Switzerland and Holland will share their expectations of the challenges and opportunities ahead.
I will also share some closing reflections on 'Reason for hope', and introduce the concept of the centre, which we plan to call the Schuman Centre. I'll explain why on the 11th.
The symposium will be followed in the evening by a reception primarily for YWAM staff and friends, where we will present the European leadership team and pray for them as together they take on the oversight of the work in Europe. I'll send more information about speakers and venue as soon as final details are confirmed. Meanwhile, please note the date: December 11, 2-5pm, Amsterdam.
Oh, and yes–I still plan to keeping writing Weekly Words!
Till next week,
Jeff Fountain
Till next week,