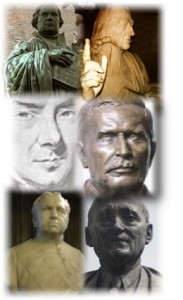 This weekend, in a far eastern corner of the European Union, close to where Romania borders the Ukraine and Moldova, the Schuman Centre sponsored a dialogue between evangelical pastors and Orthodox politicians on Christians in the public square.
Initiated by YWAM colleague Mari Blaj, the symposium attracted over 250 participants to Suceava from across Romania. A strong sense prevailed that new ground was being ploughed–on the one hand with public discussion among evangelicals about politics, and dialogue with Orthodox believers on the other..
Mari asked me to address the role of minorities as change agents, in view of the minority role evangelicals have always had in Romanian society, under communist rule and in a predominantly Orthodox culture.
Post-communists have needed special encouragement to understand the role of personal initiative and responsibility, as under marxism the state was the only player. The concept of volunteerism simply didn't exist.
But even those of us raised in a western environment more encouraging of entrepreneurship and individual initiative need to be reminded that God works in human history primarily through faithful individuals and minorities.
I love Luke's tone of irony in his introduction to John the Baptist, which opens chapter three of his gospel. 'In the fifteenth year of the reign of Tiberius Caesar', he begins. Then he names half a dozen other important politicans and religious leaders, no doubt all sitting in their imposing palaces, before delivering the punch line: 'the word of the Lord came to John, the son of Zechariah, in the desert'!
Disproportionate
Encapsulated in this one verse we have a summary of God's philosophy of history. Contrary to what we may have learned at school, history from God's perspective is not primarily shaped by impersonal forces like economics, dialectical materialism or fate. Neither are the prime movers the so-called Great Names who fill our history books.
God's interest is mainly with those are are faithful, available and teachable.
This is clear from the whole storyline of the Bible. Joseph, Moses, Gideon, David, Daniel, Esther and Nehemiah were all political figures, so to speak, who through their faithful obedience and availability were used of God to have a totally disproportionate impact in their world.
The focus in the New Testament and the early church continues to be on individuals and minorities–from Jesus and his handful of disciples, Paul and his band of fellow missionaries to countless anonymous believers who faithfully 'gossiped the gospel' throughout the empire and beyond. Within three centuries they had effected what one author has called 'the unlikely triumph of Christianity' over the world's mightiest and richest power.
Alternative
At this stage, the story gets complicated as the church becomes institutionalised and identified with power structures. Much church history focuses on such structures, but we can trace an ongoing pattern of faithful individuals who answer God's call to make a difference: Anthony and Pachomius, fathers of the monastic movement; Gregory the Illuminator, through whom Armenia became the world's first Christian nation; Patrick who transformed pagan Ireland into the island of saints and scholars; Boniface, who shaped Germany more than any other person in history; Cyril and Methodius, apostles to the Slavs … and on the list goes, leading us towards the Reformation.
It's a story of individuals who wrestled with God and their own conscience, yielding to the divine will and purpose, whatever the consequences. The story includes Luther and Wesley, whose lives sparked reformation and renewal; of Wilberforce and Raiffeissen, whose love for God and neighbour emancipated slaves and debt-ridden farmers; of Kuyper and Schuman, whose passion to see Christ's lordship extended over all of life was earthed in daily politics at national and European levels.
Surrounded by such a cloud of witnesses, we too are urged to join this faithful minority, to be change agents helping to shape the future.
John Stott once asked,
'Where are the Christian people today who see the status quo, who do not like what they see,
who therefore refuse to come to terms with it,
who dream dreams of an alternative society which would be more acceptable to God,
and who determine to do something about it?'
I think I met some in Romania this weekend.
Till next week,
Jeff Fountain
Till next week,