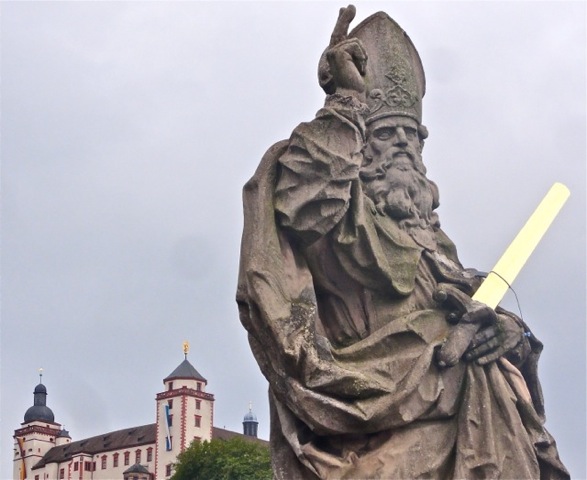 An Irish-German wedding in Munich last week prodded me to check out the role of the Irish in shaping the story of Germany.
Leah is from Dublin; Martin from Munich. Their romance began during a Schuman Centre summer school in Holland two years ago. Now they were inviting us, along with forty Irish friends and relatives, to celebrate their union in Munich with all their German connections.
Passing Würzburg en route, I was reminded how old the Gaelic-Germanic connection really was, and how profound the Celtic influence on Germanic society in the transition from paganism to Christianity. Knowing that Würzburg had Irish roots, I resolved to visit there on the return trip.
In 590, the Irish missionary Columbanus left Bangor, near today's Belfast, to spearhead the Celtic mission on the continent. He and his followers established monasteries that grew into the thousands, in places like Annegray, Luxeuil and Fontaines in today's France, St Gallen in Switzerland, Bregenz in Austria, and Bobbio in Italy.
Schottenkloster became a common German term for these and other monasteries spread across Continental Europe in the Middle Ages by Celtic missionaries, known as the 'teachers of kings and disciplers of nations'. The Romans called the Gaelic-speaking people of Ireland and their cousins who settled in western Scotland Scotti, and the area they lived in as Scotia. In the 11th century, the name came to refer to Scotland only. But the Scotti who laid the foundations for so much of the church in Germany came from both Ireland and Scotland.
Furious
Kilian (also Killian, or Cillian) was part of this first wave of Scotti. Fifty years after Columbanus left Bangor, Kilian was born in Mullagh, Ireland, close to Kells, and possibly lived on Iona for a period. As a middle-aged man of 46, he set off with eleven companions to travel through Gaul to Rome, where he and his companions were commissioned by the pope for mission work in Franconia, in today's southern Germany.
Heading north, the group split up and went in different directions. Kilian and two companions, Colman and Totnan, made Würzburg their base of operations into the surrounding region, as far as Thuringia.
The pagan Duke Gozbert lived in a castle in Würzburg, with his sister-in-law Geilana whom he had married after his brother had died.
While the duke accepted Kilian's gospel message, Geilana did not. When Kilian told the duke that marrying his sister-in-law was in violation of Scripture, she was furious. This may have been mistaken exegesis, a mistake he certainly paid for dearly. When her husband was on a trip, she ordered soldiers to the main square where Kilian and his companions were preaching to behead them all.
Returning from Munich (which name is incidentally also derived from the word for 'monk'), my wife and I detoured through the picturesque old city centre of Würzburg. Reminiscent of a small Prague, the university town has been built around a bridge decorated with baroque statues of saints, popes and emperors spannings the River Main overlooked by Würzburg Castle. The prominent Kilian wears a bishop's mitre and, despite being decapitated himself, for some reason wields a sword. From the castle, the bridge leads directly to the cathedral built on the spot where the Apostle to Franconia was martyred in 689. Würzburg became a shrine for streams of pilgrims from Ireland for centuries.
Refuge
Boniface, the Anglo-Saxon missionary who probably helped shape early Germany more than any other single person, was not himself Gaelic, although carried on the mission impulse begun by the Celts. Scotti continued to play leading roles in Germanic regions over succeeding centuries. Johannes Scottus Eriugena (literally: born in Ireland) was a notable Greek scholar serving Charlemagne's grandson, Charles the Bald. The list of monasteries founded by Gaelic missionaries on the continent include Honau in Baden (c.721), Murbach in Upper Alsace (c.727), and Altomünster in Upper Bavaria (about 749).
Schottenklöster exclusively for Scotti sprang up in Germany in the late 11th and the 12th centuries. The famous Scottish Monastery of St. Jacob in Regensburg became mother-house to other Schottenklöster, including those at Würzburg, Nuremberg, Constance, Vienna and Erfurt. Scottish and Irish monks continued to populate these monasteries into the 14th and 15th centuries before German monks took over. In Würzburg, Scotti continued to run the kloster until its suppression in 1803. Many Scottish Benedictines left Scotland after the Reformation and took refuge in the Schottenklöster of Germany.
St. Jacob's in Regensburg was the only Schottenkloster in Germany surviving into the 19th century, holding out until 1862. The Irish legacy in Germany had lasted for more than twelve centuries.
On Friday, the Irish certainly were the life of the party in Munich contributing to the singing, dancing and story-telling which lasted well into the wee hours.
Till next week,
Jeff Fountain
Till next week,