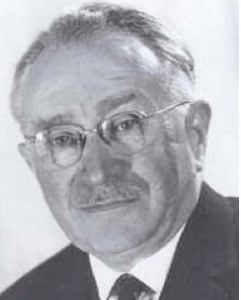 The name Sir Ludwig Guttmann meant nothing to me until a few days ago. While on holiday in Ireland last week, I heard the amazing story of the man behind the Paralympic Games. This is a story everyone should hear while the current games are being held.
Hence this weekly word, a week earlier than promised. There's another reason for that which I'll mention below.
Dr Guttmann (1899–1980), a German Jew, was director of the Jewish hospital in Breslau when the violent attacks on Jewish people and properties took place during Kristallnacht on 9 November, 1938. Guttmann ordered his staff to admit anyone without question. When the Gestapo inspected his hospital the next morning, he had to justify every new admission. He managed to rescue 60 patients, only four being deported to concentration camps.
Early in 1939, Nazi persecution of the Jews forced Guttmann and his family to flee to England. There he continued research he had begun in Germany into spinal injuries, at the Nuffield Department of Neurosurgery in Oxford. Guttmann was horrified to see how patients were often put in casts and then neglected, dying within short periods from bed sores.
The war that broke out later that year was to result in countless spinal injuries. In September 1943 the British government asked Guttmann to establish Britain's first specialist unit for treating spinal injuries at Stoke Mandeville Hospital in Buckinghamshire. The unit opened in February 1944 with Guttmann as director, a firm believer that sport was a major method of therapy, helping those with injuries to rebuild strength and self-respect. He became a naturalised citizen of the United Kingdom in 1945.
Paralympics
Preparations for the first post-war Olympics in 1948 in London inspired Guttmann to organise the first Stoke Mandeville Games for disabled war veterans on the opening day of the Games, 28 July 1948.
Four years later, Dutch veterans joined British competitors making it the first international competition of its kind. The event continued to grow, catching the attention of the organisers of the Olympic Games. At the 1956 Stoke Mandeville Games, the International Olympic Committee awarded Dr Guttmann the Sir Thomas Fearnley Cup for promoting the social value and human dignity through wheelchair sports.
At the next Olympic Games held in Rome in 1960, the International Stoke Mandeville Games were held alongside the official XVII Olympiad, realising Guttmann's dream to to create an elite sports competition for people with disabilities that would be equivalent to the Olympic Games. Four hundred athletes from 23 countries competed in these 1960 Games, no longer open solely to war veterans. These are now recognised as the first 'Paralympics', although the term was retroactively applied by the International Olympic Committee in 1984.
Dr Guttmann was knighted by Queen Elizabeth in 1966.
Since Rome, the Paralympic Games have taken place in the same year as the Olympic Games. While initially open only to those in wheelchairs, at the 1976 Summer Games, athletes with different disabilities were included, expanding participation to 1600 athletes from 40 countries. Since the Seoul Games in 1988, the Paralympics have been held directly after the Olympics, using the same facilities.
Disablity network
The current Paralympics are bringing to our attention many more heroic stories of those who have overcome great odds of living daily with handicaps, as well as of those who commit their lives to give the disabled a sporting chance.
One hero my wife and I admire is Thérèse Swinters, a courageous and infectiously-positive disabled Belgian sister who has networked faithfully across Europe for decades on behalf of the 70 million disabled Europeans.
Thérèse is a convenor of the European Disability Network, part of Hope for Europe, and which is co-sponsoring a European conference for the disabled in Germany next month (11–14 October) under the title: Disabled, Inspired, Transformed. Following on the heels of the Paralympics, this event is an opportunity for people with and without disabilities from across Europe to learn from each other and give to one another.
If you know anyone who could benefit from being at this event, go to www.hfe.org/Networks/Disabilites-(The-European-Disability-Network).aspx for further information.
Till next week,

Jeff Fountain
Till next week,